---
---
Library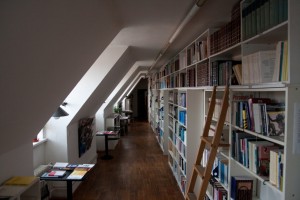 The CTS Library contains more than 10 thousands items from all scientific fields.
It is open to the public Tuesday 9.30 a.m. - noon and 1 - 4 p.m. and Wednesday 1 - 5 p.m. The books are only for in-house use.
Documents may be looked up in an online database. Please consult the availability of desired items with the librarian before your eventual visit.
Librarian:
Tomáš Jun
Tel.: 222 220 671
E-mail: jun@cts.cuni.cz
CTS Library Rules and Regulations here
CTS Library online database here
UKAŽ -
http://ukaz.cuni.cz
- Charles University search includes results from the Library Collection, Institutional Repository and most of E-resources (complete E-resources you can find at
http://pez.cuni.cz/index.php?lang=en)