---
---
News archive
Tým Davida Storcha získal Cenu předsedy GA ČR
za výsledky základního výzkumu v oblasti biologické rozmanitosti na povrchu Země - tisková zpráva a video
zde
. (created 8. 9. 2015)
On Sunday 4th October 2015, CTS and Foundation VIZE 97 presents
Black Earth: Some Problems in Political Theory in Relation to the Holocaust
, a lecture by
prof. Timothy Snyder
. More information
here
. (created 1. 9. 2015)
Rector of Charles University in Prague announces an opening at the Center for Theoretical Study for the position:
Postdoctoral researcher interested in one of the disciplines developed at the CTS, and open for transdisciplinary interactions and the dialogue between natural sciences and humanities/social sciences. The position is for 2 years.

Requirements: Completed Ph.D. study, preferably within 3 years after the awarded Ph.D. (or equivalent title), fluent English, demonstrated experience in sciences or humanities.

Required documents: A letter of intent together with a proposal of suggested research activities, specifying the links to CTS research topics, professional CV, list of publications, copy of the Ph.D. diploma or the confirmaton of the defence of Ph.D. dissertation or its submission.

Expected starting date is 1st November 2015.

Applications for the position may be delivered to the address: Centrum pro teoretická studia, Jilská 1, 110 00 Praha 1, Czech Republic, or via e-mail office@cts.cuni.cz until 30th September 2015. For detailed information call 420-222 220 671, or send the email . (created 17. 6. 2015)
A lecture on
Creating Just Energy Transitions: From Radioactivity to Renewables
will be held on
10 June 2015
at CTS by
Jennifer Richter
from Arizona State University. More detailes
here
. (created 5. 6. 2015)
CTS organizes
2nd Central European Theoretical Archaeology Group meeting (TAG 2015)
on
12 May 2015
Programme
here
(created 27. 4. 2015)
11th Conference of Environmental Archaeology on the topic "LIFE IN FLUX: Humans, animals and plants in postglacial ecosystems of Europe and Northern Africa" will take place from 9 - 11 February 2015 in České Budějovice. For more information click here.   
(created 19. 11. 2014)
CTS se zúčastní
Týdne vědy a techniky 2014
přednáškou
Africkou divočinou za zákonitostmi biologické rozmanitosti
, která se bude konat
13. listopadu 2014 od 10 hod.
v barokním refektáři kláštera sv. Jiljí. Více informací
zde
.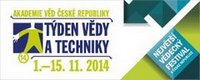 (created 8. 10. 2014)
Kolektiv autorů Archivu Jana Patočky vadává další díl Sebraných spisů Jana Patočky - Nitro a svět (Fenomenologické spisy III/1) zde
(created 27. 8. 2014)