---
---
Phenomenological Philosophy at CTS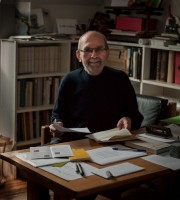 A Philosophical Project
The Jan Patočka Archives have been developing as a specific philosophical project since they were established (de facto on 13 March 1977, the day of Patočka's death). From the very beginning, their main aim has been to embrace that tradition of philosophical thinking which in its interpretation respects sense that is unreflected and taken as a matter of course, and at the same time is able to relate critically to such unreflected sense. The phenomenological philosophy of Jan Patočka is doubtlessly an example of open and critical thinking of this kind. It is therefore also a good instrument for the critical examination of the essential sources and themes of European thought and culture. Ivan Chvatík and Pavel Kouba, the main editors of Patočka's Collected Works and founders of the Jan Patočka Archives, have used this instrument to orient themselves in the current realm of philosophy, and to interpret the philosophers who have influenced the current situation and contribute to its possibilities. Ivan Chvatík focuses primarily on Plato, Aristotle and Martin Heidegger, Pavel Kouba on Immanuel Kant and Friedrich Nietzsche. Both philosophers have taken not only several lifelong themes from this confrontation, but also the need to delimit anew the sense of asking philosophical questions, and of philosophical action in general. As Pavel Kouba writes in his book
Život rozumění
(The Life of Understanding) of 2014: "Changes in thinking are not necessarily expressed in new terminology, but they are certainly expressed in the ways we use existing terms, including the most ancient, and in the things we use them for. Hence we cannot exclude the possibility that the current state of philosophy enables us explicitly to change the purpose of philosophy – i.e. its
question
."
Dialogue with science
When Ivan Chvatík decided to integrate the Jan Patočka Archives into the Center for Theoretical Study, he offered phenomenological philosophy to the Center as an important tool for the reflection and self-reflection of individual academic disciplines. Phenomenology is suited to this purpose due to three main characteristics: 1) One of its essential tasks, without which phenomenology would not be phenomenology, is the
analysis of the meaning of scholarly enquiry
, regardless whether we consider phenomenology itself a discipline or not. 2) For a proper phenomenological analysis it is crucial to return
to the things themselves
. The tools developed in phenomenology are able to fulfill this task. They can help recover neglected themes or objects of various disciplines, as well as examine and renew age-old scholarly intentions. 3) Apart from the meticulous study and analysis of objective structures, from which any introspectible thing obtains its meaning and can be understood, phenomenology has not neglected at the same time to
analyze the subjective practices
in which all objective structures are constituted. Phenomenology, in contrast to, say, structuralism, thus never loses sight of the specificity and perspective of all knowledge.
[More information]
on the Archives, its establishment and activities.
Frei, Jan [detail]

Philosopher. Head of the Jan Patočka Archive, co-editor of the Collected Works of Jan Patočka.
email: frei@cts.cuni.cz
Chvatík, Ivan [detail]

Philosopher, phenomenologist. Founder and director of the Jan Patočka Archives, he leads editing of Jan Patočka´s works.
email: chvatik@cts.cuni.cz
Kouba, Pavel [detail]

Philosopher. He is inspired by Husserl´s and Heidegger´s phenomenology. He focuses on current problems of phenomenological and hermeneutic philosophy.
email: koubap@cts.cuni.cz
Matoušek, Alexander [detail]

Art historian, philosopher. He is interested in phenomonology, religious studies, art theory and history.
email: matousek@cts.cuni.cz