---
---
Mgr. et Mgr. Karolína Pauknerová, Ph.D.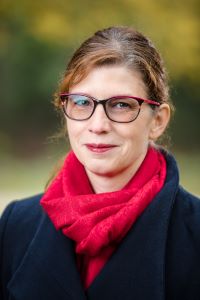 Karolína Pauknerová, graduated in anthropology and archaeology at the Faculty of Humanities and the Faculty of Arts of Charles University. Her research focuses on the topic of landscape and its past and memory, especially on the question of how the meaning of landscape is formed; and the study of material culture. These themes have been developed and pursued, for example, in the field of cultural and natural heritage, its transformation and presentation. These themes also contribute to the Center's collaborative research and interest in the Anthropocene. She is the author of a monograph in Czech, Landscape between Memory and Forgetting (2019) and co-author of the books in Czech: Paths of Czech Science. Catalogue of the Exhibition (2022), The Dispute over Process and Event (2018) and in English: Non-humans and after in Social Science (2016), Non-humans in Social Science: Ontologies, Theories and Case Studies (2014), Non-humans in Social Science: Animals, Spaces, Things (2011).
Since 2021, she represents the CTS as a member and since 2023 as a Management Committee Member for the Czech Republic in the WG3 "Traces and Climate Change" in the COST Action CA20134 Traces as Research Agenda for Climate Change, Technology Studies, and Social Justice (TRACTS). Since 2021, she is a co-chair of the "SIEF WG Space-lore and Place-lore", she has been a member of the SIEF (International Society for Ethnology and Folklore) since 2017. She is also a founding member of the interdisciplinary, international reading group "Reading X Through a Post-Anthropocentric Lens" at CEFRES in Prague, established in 2022, which focuses on topics related to post-humanism, post-Anthropocene and issues of more-than-human entanglements.
Current grants (Researcher):
Nature and Culture: Historical, Cultural, and Biological Concepts of Human Nature
[detail]
2018 - 2023, Univerzitní výzkumná centra Univerzity Karlovy (UNCE) č. UNCE/HUM/025
Traces in Resilient Ralsko
[detail]
2023 - 2023
Pro další publikace přejděte do vyhledávání publikací - zde