---
---
News archive
11th Conference of Environmental Archaeology on the topic "LIFE IN FLUX: Humans, animals and plants in postglacial ecosystems of Europe and Northern Africa" will take place from 9 - 11 February 2015 in České Budějovice. For more information click here.   
(created 19. 11. 2014)
CTS se zúčastní
Týdne vědy a techniky 2014
přednáškou
Africkou divočinou za zákonitostmi biologické rozmanitosti
, která se bude konat
13. listopadu 2014 od 10 hod.
v barokním refektáři kláštera sv. Jiljí. Více informací
zde
.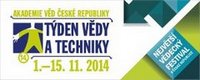 (created 8. 10. 2014)
Kolektiv autorů Archivu Jana Patočky vadává další díl Sebraných spisů Jana Patočky - Nitro a svět (Fenomenologické spisy III/1) zde
(created 27. 8. 2014)
The International Conference
Bolzano in Prague 2014
will take place in Villa Lanna in Prague 6
on July 16 - 19, 2014
. The program can be found
here
. (created 11. 7. 2014)
Mezinárodní kolektiv autorů, včetně autorů z CTS, publikoval v časopise Science věcný komentář k článku, který se pokusil o první systematický odhad proměn pokrytí planety lesy na základě analýzy satelitních snímků - Jak planeta přichází o lesy?
(created 3. 6. 2014)
Vesmír se rozpíná! Přírodovědecký popularizační časopis Vesmír rozšířil své aktivity o on-line magazín, na který se můžete podívat zde
(created 30. 5. 2014)
The IWM (Vienna) has published a new call for application -
Jan Patočka Fellowships 2014/2015 for Czech scholars
.
More information available at
www.iwm.at/fellowships/patocka
(created 17. 4. 2014)
The CTS library
is open to the public Tuesday 9.30 a.m. - noon and 1 - 4 p.m. and Wednesday 1 - 5 p.m. More information
here
(created 18. 2. 2014)
CTS přeje všem klidné a radostné svátky a odhodlaný vstup do nového roku! První akcí v roce 2014 bude pravidelný čtvrteční seminář 9. ledna s nově zvoleným rektorem UK prof. MUDr. Tomášem Zimou. (created 12. 12. 2013)