---
---
Jan Patočka Archives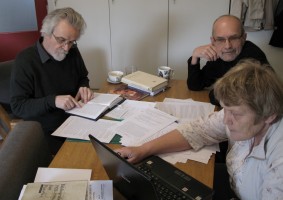 The Jan Patočka Archives (AJP) originated de facto on the day of Patočka's death, 13 March 1977, when his students hid Patočka's literary legacy from the StB (State Security) and secretly began to prepare it for publication. For these activities, the editorial group (Ivan Chvatík, Radim Palouš, Pavel Kouba, Miroslav Petříček and Jan Vít) was awarded by the Czechoslovak Academy of Sciences in 1990.
The AJP was formally founded in January 1990 as part of the Philosophical Institute of the present day Academy of Sciences of the Czech Republic. From 1993, it has been a part of Center for Theoretical Study (CTS).
The aim of the AJP is to organize a study and interpretation of the philosophical legacy of Jan Patočka, to publish the Collected Works, 25 planned volumes, and to gather manuscripts and documents concerning his work and life.
Information about the phenomenological philosophy developed at the AJP