Accommodation
We are pleased to offer you accommodation available in three different categories and at special conference prices at the TSC 2003 Conference venue.
For your accommodation reservation please send us fullfilled TSC Reply Form.

Version for Microsoft Word

Version for Acrobat Reader
TOP Hotel Praha
Blaľimská Str. 1781/ 4, Prague 4
Tel.: +420-267284111
Fax: +420-272765854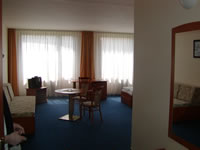 Accommodation is offered in three different types of rooms: standard, executive and apartments. All rooms are equipped with WC/bathroom, direct-dial phone, TV-SAT, mini bar, and hair dryer. Apartments come with Internet access and air-conditioning. Please note that the number of apartments is limited.
Buffet breakfast is included and a large number of supplementary services are available. The hotel offers an extended space for relaxation and sport activities. Sports enthusiasts can spend their leisure time playing tennis, table tennis or bowling. TOP HOTEL Praha & Congress Centre has its own casino, fitness/aerobics centre, sauna, solarium, and massage studio.
Distance to the city centre: 15 minutes.
Fees
TOP Hotel Praha

Single room

Double room

Triple room

Deposit

Standard room

1 900

2 500

3 000

1 500 CZK

Executive room

2 400

2 900

3 500

Apartment

2 500

3 000

3600
All prices above are per night in Czech Crowns (CZK) and include breakfast and VAT. (for prices in other currencies check the exchange rates of the Czech National Bank)
On your Reply Form please mark your preferred type of accommodation using numbers 1, 2 to indicate your first and second choice preference. After receiving your Reply Form we will send you an electronic (e-mail) hotel voucher for your first choice of accommodation or, in the case of overbooking, we will try to satisfy your second choice.
Accommodation Payment
The accommodation payment is comprised of the accommodation deposit, payable together with the registration fee, and the accommodation balance (the difference between your paid deposit and the rest of the costs of your stay), and payable before your arrival. The accommodation balance depends on the number of nights of your stay and the paid accommodation deposit. The accommodation balance will be charged after June 6, 2003 unless you have cancelled the hotel reservation due after that date.
Example: 5 nights standard single room (1900 CZK per night) is 5 x 1900 = 9500 CZK
Accommodation deposit = 1500 CZK
Accommodation balance = 8000 CZK
Total accommodation payment = 9500 CZK
Any changes in hotel booking (after the payment of the accommodation balance) will be solved individually.